Page - Wedding
SET-UP FOR CIVIL CEREMONY

Villa Maggi Ponti is the perfect location for weddings and receptions in Cassano d'Adda, Milan.
The Municipality of Cassano d'Adda has elected the Villa Maggi Ponti external office of Civil Status for the purposes of the celebration of marriages and civil unions. You can celebrate the ritual directly in our historical location, and the act will be valid for all purposes.
A charming location for your wedding
Choose the frescoed rooms and wonderful garden of the Villa Maggi Ponti means to celebrate your civil marriage in a historic setting near Milan and continue the party in the same location with your guests.
Every detail will be planned in detail by our staff, who has extensive experience in organizing weddings and ceremonies. Leaving us all the preparations, the only thing you have to think will be enjoying your day with the people who are dearest to you.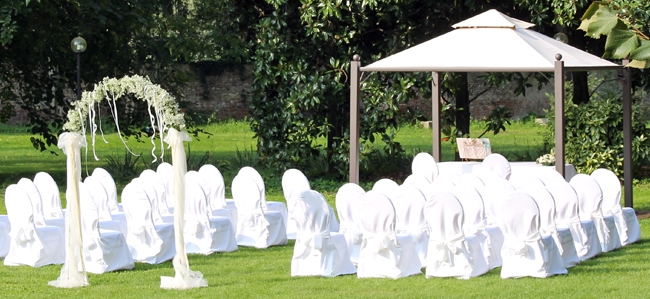 What is included in the price?
1 gazebo 3m x 3m, 1 table 180x80x75h with white tablecloth and tulle, 30 chairs with white covering, 2 standard floral centerpieces, 1 arch, covered with white flowers, tulle and additional flowers in a colour of your choice, 1 runway with flower petals from the arch to the ceremony table, 1 wooden platform 5m x 4m, 1 microphone with speakers and music of your choice.
Tiziana and Cristian will be at your side to suggest, propose, construct and organize every moment of your special day, to make it beautiful and unforgettable: mise en place, set-ups, menus, tableau de mariage, menu printing, photo shoot, musical entertainment, baby-sitting, fireworks, floral decorations, civil ceremony, and more.
We invite you to visit us and taste our food, we will choose the perfect menu for your wedding. We are always open, except on Mondays.
We inform you that the Villa has 28 rooms equipped with all comforts, where you can lodge your guests, and that will be offered you, for the first night of your wedding, the room in the medieval tower.